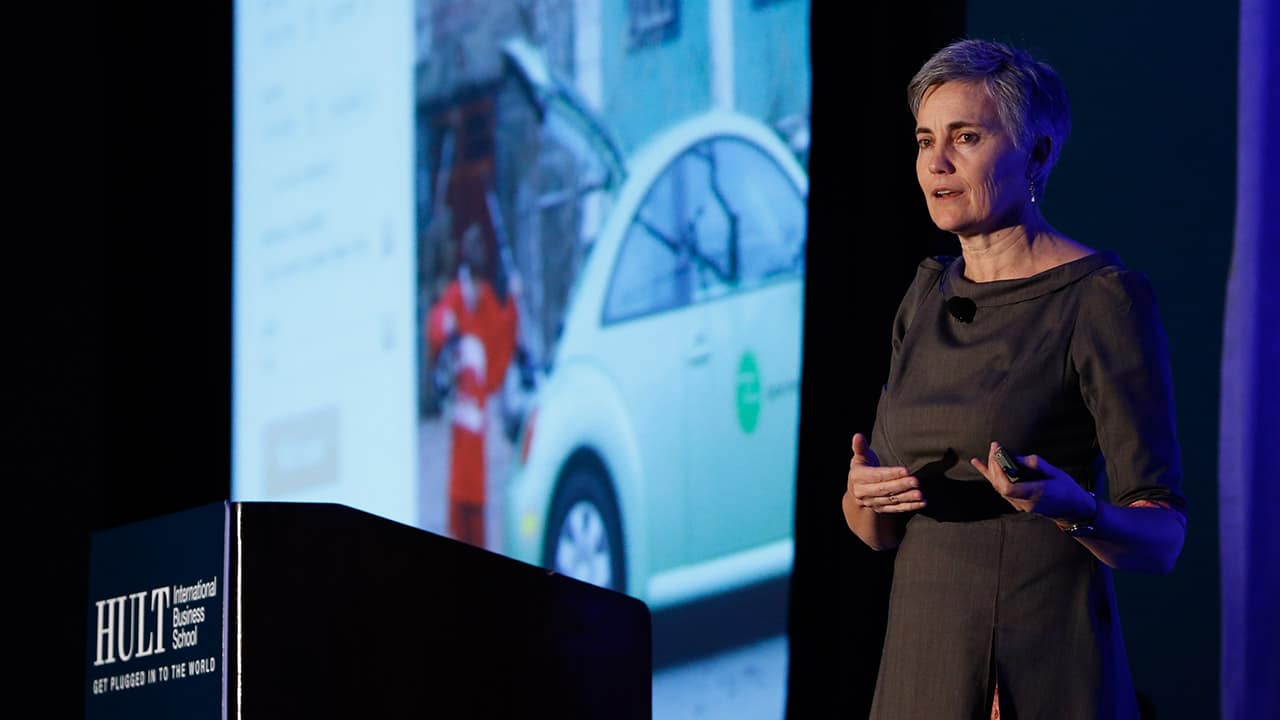 Taxi booking firm Uber was this month valued at USD40 billion following a USD1.2 billion financing round, making it one of the most valuable new technology start-ups. [Tweet "Uber was this month valued at USD40 billion."]
Despite recent controversies and criticism, the company is an undeniable success story. It was founded in 2009 and, during the past year alone, has expanded its global network from 60 cities in 21 countries to 250 cities in 50 countries.
Uber is one of the most striking examples of the disruptive business model – entering a market with an established way of doing things and showing how it can be done differently.
This approach means even the smallest start-ups can compete with corporate giants, by distinguishing themselves from their rivals and delivering genuine value to the consumer.
Hult Professor Michael Grandinetti discusses disruptive innovation.
Disruptive innovation in action
Even in industries that seem inextricably linked to established business models, an innovative start-up has a chance of success if it can provide a viable alternative with unique advantages.
In the case of Uber, the company's idea was to offer a new way to 'hail' a taxi. It does not own cars or employ drivers, but provides an app that links customers to available cabs.
The model offers benefits that customers would not normally get, like being able to track their car on a map to know exactly when it will arrive.
Another example of carving out an industry niche by doing things differently is Zipcar, the world's largest car sharing company.
Speaking at the Hult International Business School campus in San Francisco, Zipcar co-founder Robin Chase said the firm's aim is to make renting a car as easy as using your own. It has created a community of individual car owners who make their vehicles available for hire.
One of the key parts of the company's strategy is utilizing excess capacity. Most of the time privately owned cars are sitting idle, and traditional vehicle rental packages are based on 24-hour bundles, even if the customer only needs the car for a short time.
This tactic has also proved effective for Airbnb, which was launched four years ago and now provides access to 650,000 spare hotel rooms around the world. Compare this to InterContinental Hotels Group, which took 60 years to build up its global network of 645,000 rooms.
Speaking about her own experience of launching an innovative business, Ms. Chase said she benefited from being an industry outsider. This meant she had fresh ideas and could approach challenges from an interdisciplinary background.
The Zipcar founder also advocated honesty about what you know and don't know, and boosting your knowledge through research and the help of trusted advisors, combined with humility in leadership, and plenty of persistence.
"I guess all of this boils down to being able to learn fast; and to trust that both you and your team can learn what is required, so you are not beaten down by failure," said Ms. Chase.
Creating the model and being the first mover
Business students and graduates with ambitions of launching their own disruptive venture should focus on developing a unique model of their own, rather than following the lead of recent success stories.
Christine Day, former chief executive of clothing firm Lululemon Athletica and current CEO of food company Luvo, said one of the challenges that excites her most is coming up with an idea that has no precedent for success.
"What I love to do is, where there is no evidence, actually create the business model and the team that can go after that opportunity, because I think if you wait for the evidence, by the time that happens you're not the first mover," she told Fortune magazine.
In a CNBC article questioning the accuracy of Uber's USD40 billion valuation, Michael A. Yoshikami, the CEO and founder of Destination Wealth Management in California, said the company's first-mover status is one of its few clearly discernible assets, along with an "unknown intellectual-capital inventory".
The 'renaissance entrepreneur'
If you have an idea you believe has the potential to shake things up within an industry, one of the keys to success is turning the idea into a workable business model in our globalized, rapidly evolving economy.
In the modern corporate environment, industry structures and systems for delivering value to customers are becoming increasingly fluid. Value chains are becoming 'value webs', wherein customers can also be suppliers and competitors are potential collaborators, as shown by the success of innovators like Zipcar. [Tweet "Value chains are becoming 'value webs', wherein customers can also be suppliers."]
Today's enterprising business graduates should be looking beyond conventional concepts like linear value chains, and focusing on dynamic, multi-dimensional strategies.
"In essence, you need to become a renaissance entrepreneur, who thinks and acts in those multi-dimensional ways and can orchestrate integrative innovation and value-creation accordingly," writes Olaf Groth PhD, Global Professor of Innovation, Strategy, Management, and Economics at Hult in his article 'How innovative business models can reshape an industry'.
"You need to grow your renaissance brain and calibrate your skillset to meet these new demands."
Companies like Uber, Airbnb, and Zipcar have demonstrated that a disruptive business model executed in the right way can be the route to rapid growth in the short term. [Tweet "A disruptive business model executed in the right way can be the route to rapid growth."]
As such firms evolve and expand, qualities like responsiveness to market trends, humility, and adaptability will be more important than ever, as they themselves become the target of the disruptors.
Make the most of what your career has to offer with a Masters in International Business from Hult. To learn more, take a look at our blog Should you choose a Master of International Business or MBA program? or give your employability a huge boost with an MBA in international business. Download a brochure or get in touch today to find out how Hult can help you to explore everything about the business world, the future, and yourself.
Related posts