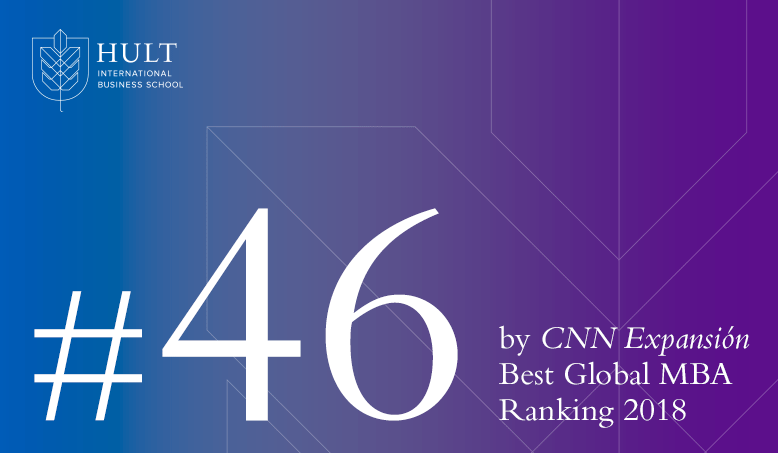 We're proud to announce that Hult's Global One-Year MBA has been recognized by CNN Expansión magazine's 2018 Best Global MBAs rankings report. Expansión is among the most influential business magazines in Mexico and Latin America. Once again, Hult was counted among the top 50 MBA programs globally, ranking 46th—up one place from 2017.
Compared to other schools within the rankings, Hult's Global One-Year MBA is:
#7 for number of student nationalities
#7 for percentage increase on pre-MBA salary
#8 for percentage of Latin American students 
#8 for percentage of international students
These lastest rankings reflect our truly global student body and commitment to delivering the most relevant, forward-thinking MBA curriculum.
In recent years, a number of other prestigious publications, including The Economist, Forbes, and Bloomberg Businessweek, also took notice of our innovative curriculum, with Hult International Business School ranking among top schools globally.
Hult International Business School rankings
13th Best Masters in Management (for Hult's Masters in International Business) – The Economist, 2017
About Hult International Business School
Hult is a new kind of business school for the global generation. With campuses in Boston, San Francisco, London, Dubai, Shanghai, and New York, Hult brings together people, cultures, and innovative ideas from around the world. The school's student body is made up of more than 150 nationalities with students speaking over 100 languages between them. Hult's alumni network of more than 19,000 graduates work in 170+ countries across the globe and there are 70 clubs and chapters active in over 60 countries worldwide. Employers value Hult graduates' international outlook and entrepreneurial flair, which has yielded impressive employment statistics for the Class of 2017.

Hult offers a range of highly skills-focused and employability-driven business school programs including a range of MBA options and a comprehensive one year Masters in International Business. To find out more, take a look at our blog Ikigai, or how to find your purpose. Download a brochure or get in touch today to find out how Hult can help you to learn about the business world, the future, and yourself.
Related posts