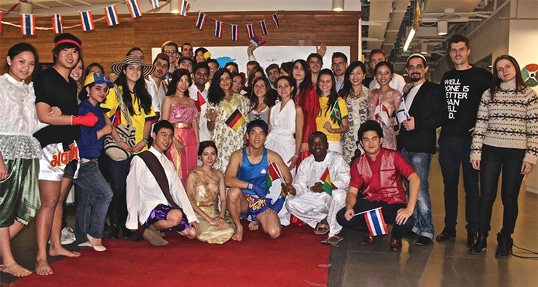 Hult Shanghai is unique among our campuses in that every student is from overseas. Career events on campus offer a global perspective on local issues and social events have a very international flavor. This fall has seen Hult Shanghai host HR and Recruitment Innovation Talks, the first installment of The Economist Series, and the third annual International Cultural Festival.
Trends and challenges in China's talent market
The innovation talks invited HR and recruitment professionals to discuss the trends and challenges in the Chinese talent market, and propose new ways of tackling some of the issues employers face. Simone Groeneveld, Director of Solutions at ManPower Group, and Jacob Bonk, Recruitment Director for L'Oreal China, were the guest speakers and local job seekers also joined to give their perspective. For our students, it offered a great insider view on how the job market operates in China, as well as an opportunity to network with recruiters and hiring managers in the region.
'The Economist Series' addresses global economic trends
Next, Hult Shanghai kicked off 'The Economist Series'. Robin Bew, Managing Director of The Economist Intelligence Unit, was the inaugural speaker. As the global economy is seeing a major shift in growth patterns, the BRIC economies falter, Europe stagnates, and the U.S. economy is slow to recover, Robin Bew discussed how this is affecting investment patterns and consumers' confidence in major markets, and shared recent global economic trends. A highly relevant topic for our students looking to pursue a career in international business, in any sector, the series opened to a full house.
Students experience 35 countries in 3 hours
Now in it's third year, the International Cultural Festival was held at our Shanghai campus on Nov 14th.  This year, over 35 different countries were represented in this annual celebration of culture. The entire campus was converted into an airport where students could travel the world in three hours, visiting mock consulates and embassies, visiting 'local' restaurant and stores, and sampling food and drink from across the globe. The national costume parade was as entertaining as ever and students relished the opportunity to discover more about their classmates' home countries.
Kickstart your career in the commercial center of Asia by studying at Hult's Shanghai business school. To find out more, take a look at our blog Settling back into Shanghai: My MBA rotation experience so far. Download a brochure or get in touch today to find out how Hult can help you to learn about the business world, the future, and yourself.
Related posts