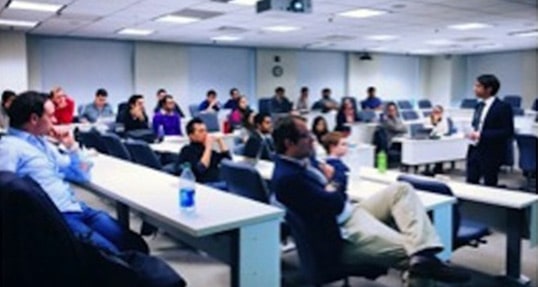 Boston Energy Club Debut Event

Hult News, 10 years ago
0
2 min

read
The Hult Boston Energy Club recently hosted it's debut peer-to-peer event. MBA Candidate and Energy Club President, Alejandro Liano, gave a presentation outlining different sources of energy production in the cleantech space. He presented material and data to show the viable market space and growth trend of related industries in this field. Alex also discussed what global climate change was, causes, and long term effects as well as how the topic translates into current actions by business leaders today.
The event continued with a panel discussions featuring students from Hult, Babson and Northeastern. The group dialog was organized around sustainability topics including Greentech, fossil fuels, the evolution of the definition of sustainability and company strategic focus. Audience participation was a key component and other topics addressed were electric vehicles, tidal energy electric generation, liquid petroleum, tar sands oils, toxicity and scarcity in photovoltaic production, and the validity of 'clean' technologies in a high cost variability environment. The main take-aways from the discussion where:
● Marginal cost of renewable energy production is hands down a market driving incentive to invest in these technologies
● Fossil fuel technologies are not going away soon and necessary to sustain the grid for the near and mid term future
● There is enormous potential for business professionals in the energy industry
The value of learning from fellow classmates, understand and respective differing points of view, and gaining insights into future potential career options made the event as a whole very successful.  The Energy Club would like to thank all who participated and they hope to evolve the next event into an even more successful and challenging peer-to-peer forum.
This post was contributed by MBA candidate and Energy Club Vice President, Nicholus McKee.  
Photo courtesy of Nicholus McKee.
Kickstart your career in this education and innovation hotspot by studying at Hult's Boston business school. To find out more, take a look at our blog Student living: Boston on a budget. Download a brochure or get in touch today to find out how Hult can help you to learn about the business world, the future, and yourself.
Related posts