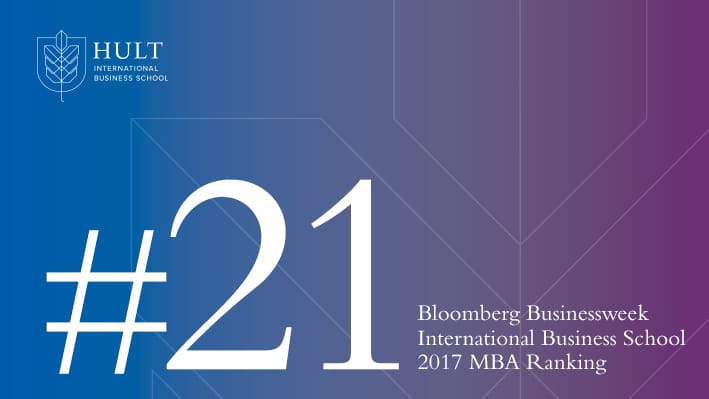 Once again Hult International Business School has been ranked amongst the world's top business schools for its global one-year MBA. Awarded 21st Best International MBA program (2017) by Bloomberg Businessweek, Hult continues to receive recognition for the global nature of the school and its program impact.
The Bloomberg Businessweek annual ranking focuses on how well MBA programs prepare graduates for career success by looking at a combination of job placement rates, starting salaries, as well as student and alumni feedback. This year, Hult was placed in the top 10 for the Job Placement category (#9) and climbed up the rankings for both the Employment (#11) and Student (#19) Surveys. You can review the full methodology here.
In September, Hult's MBA program was also ranked 15th Best by Forbes (2017), which similarly looked at the return on investment graduates saw five years post-graduation. This latest ranking adds to a growing list of Hult reviews, including:
About Hult International Business School
Hult is a new kind of business school for the global generation. With campuses in Boston, San Francisco, London, Dubai, Shanghai, and New York, Hult brings together people, cultures, and innovative ideas from around the world. The school's student body is made up of more than 150 nationalities with students speaking over 100 languages between them. Hult's alumni network of more than 19,000 graduates work in 170+ countries across the globe and there are 70 clubs and chapters active in over 60 countries worldwide. Employers value Hult graduates' international outlook and entrepreneurial flair which has yielded impressive employment statistics for the Class of 2016.
At Hult, you'll do more than earn your MBA. You'll learn to see the world differently and embark on an experience that will transform your life and your career.

Make the most of what your career has to offer with a Masters in International Business from Hult. To learn more, take a look at our blog Hult International Business School Launches Visionary Speaker Series, or give your employability a huge boost with an MBA in international business. Download a brochure or get in touch today to find out how Hult can help you to explore everything about the business world, the future, and yourself.
Related posts