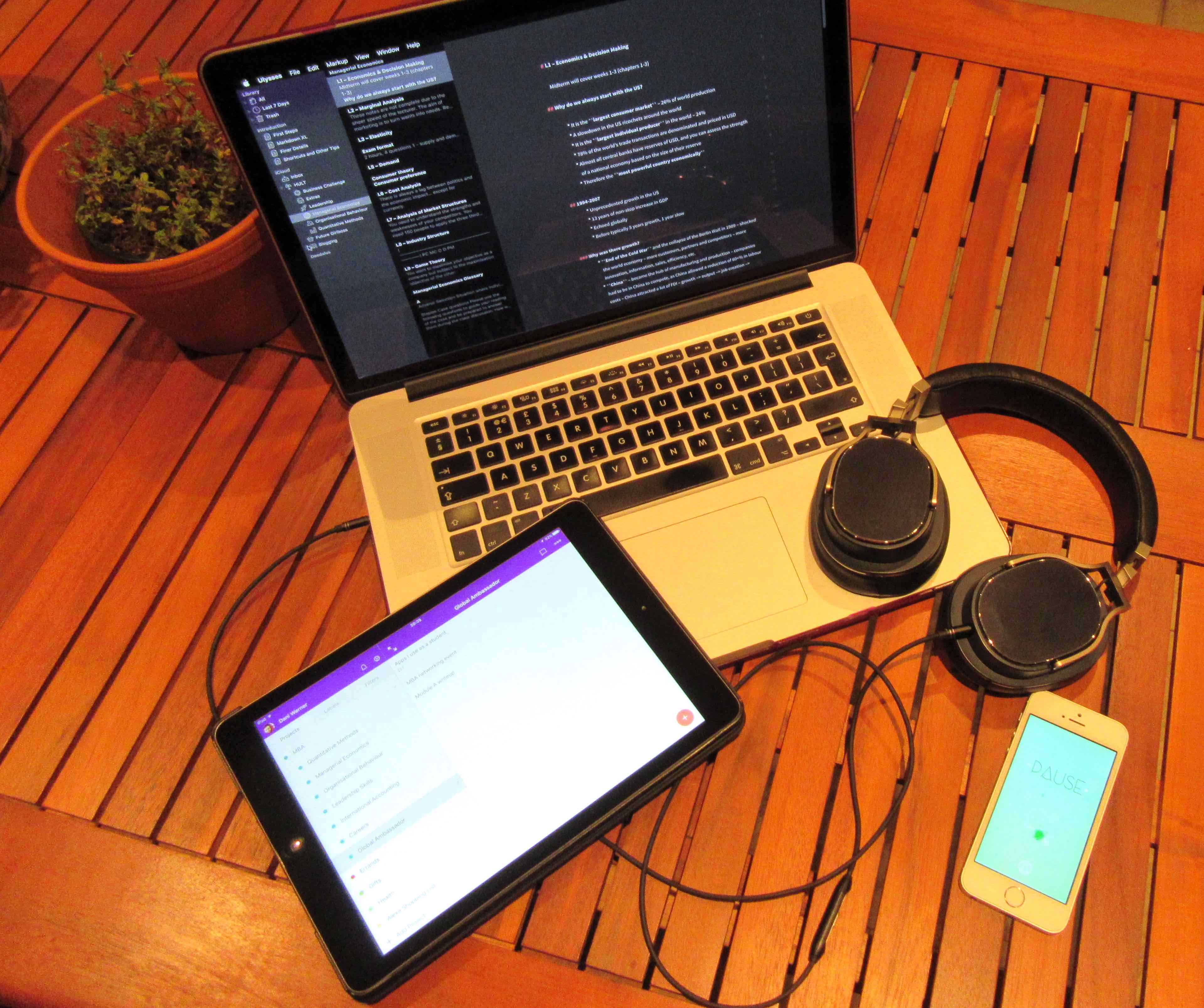 Written by Global Ambassador, Dani Werner, MBA student, London campus, Class of 2017.
Module A has come and gone, and I am finally getting back into the student life. These first 14 weeks have been incredible…and tough. As a technophile, I am always trying out new gadgets and apps, and below are the ones I turned to during this first part of the MBA programme. They've helped me work faster, communicate better, and maximise my downtime.
To work
1. Todoist
People think students have an easy life, not having to be in class from 9 to 5 every day. Actually, I'm busier now than when I had a full-time job! While I used Todoist before starting the MBA, it's certainly come in handy now. I can quickly throw in my tasks, then organise them into projects and sub-projects, add deadlines and prioritise them. What's more, I can share projects with others, allowing for easy team collaboration.
Todoist is a to-do list app available on just about every platform, including iOS, macOS, Windows, Android and online. It's free, though you can upgrade to Premium (£21.99/year) for additional features, such as adding comments to tasks, iCal synchronisation and location-based notifications.
2. Ulysses
Ulysses is my go-to writing app. In fact, it's what I used to draft this list, as well as any notes I took on the computer. I write everything in Markdown, which is a quick method of writing with formatting without breaking your flow. When I'm ready to take it elsewhere, like to one of my blogs, I can copy the HTML underneath or export as a Word document or PDF. What's more, it has a handy document organisation panel to easily swap between documents.
Ulysses is available on iOS (£18.99) and macOS (£34.99). Yes, I know this is a little on the pricey side, but after trying so many different tools, Ulysses offered everything I needed and more. It was worth it. If you want to try writing using Markdown without downloading anything, you can also use online apps like Dillinger and StackEdit.
3. RefME
Referencing — the bane of every student's life. There are a lot of strategies and tools out there, but the one I use is RefME. With its Chrome extension, I can easily collect articles I find online into project folders. I can also manually add sources to projects, such as interviews, or scan books using the iOS or Android app. Group members can be added to projects so whole teams can work together to collect sources in one place. Swapping between referencing styles is simple, and then all my references can be exported for free in the right format, ready to go.
For those wanting an extra level up, RefME also offers a Microsoft Word add-in that lets you add in-text citations and automatically updates a reference list at the end of the document. Bear in mind that this does come at a bit of a cost (£24.99/year), so weigh up how much effort it'll save you!
4. Slack
Slack is my favourite communication tool. Ever. I've used it at work, with my best friend (and co-blogger), and for group projects so far at Hult. It supports multiple platforms support (meaning desktop, phone and web apps) and multiple teams, and you can share documents and have video calls right in the app. The icing on the cake is its excellent search facility, making it preferable over other messaging tools like Skype and WhatsApp. Best of all, you can use it for free! (With additional functionality at a cost, of course.)
5. Focus@Will
I was not completely sold on Focus@Will for a long time. The interface is a little bit clunky, and it is expensive. However, during midterm time, I gave in to the call of a 50% off sale…and I don't regret it. Focus@Will plays music that's been specially engineered to increase productivity and focus, and I do personally think it works. You need to play around and find the best genres and energy levels for you, but once you do, you're good for hours of solid work!
To get around
6. Citymapper
I'm fairly sure most of the class relies on Citymapper to get around London. Not only does it do directions for public transport, it allows you to save locations for easy access later and gives you an ETA to share with your friends. Most importantly, however, is that it pulls in alerts regarding delays or closures, something I make sure to check before heading out to class. You can't be late at Hult.
7. Monzo
Monzo is a new British banking start-up, but all the action happens on your phone. You get a debit card you can load with money from your standard debit card, and as you use the card, all your expenditures are listed in the app, complete with categorisation and location. You can even take a photo of the receipt to store against the transaction!
I think Monzo is great for students, I really do. I can set myself a spending budget each month and then try to stick to it, seeing how much I'm spending and on what as the month progresses. It's money transfer functionality with anyone else with a Monzo card is also quick and easy, great for if you need to pay a friend back or borrow some cash.
To destress
8. Spotify
I love Spotify so much I wrote a paper on it. I'm not joking. Specifically, a microeconomic analysis of the business, so I really know it well now.
I retired my music collection a couple years ago to an external hard disk and now rely on my Spotify Premium account for all my musical joy. Not only does it have almost everything I've looked for, but I've discovered more music than I would have otherwise through its playlists and recommendations. Plus, the offline functionality available with a Premium subscription means I can listen to my favourite albums and playlists on the London Underground!
With student subscriptions going for £3.99/month, why wouldn't you sign up?
9. Netflix
I don't watch live TV; I'm part of the streaming generation, moving completely to online viewing. Netflix is my platform of choice, with an affordable subscription and an ever-increasing variety of TV shows and movies. When I need to just switch off for half an hour to an hour after class, I know it'll be there for me with something — anything — to watch.
10. Pause
With so much work to do, it was easy to get anxious and stressed. It's important to take a step back and breathe, or try a little mindfulness. Mindfulness is becoming increasingly recognised as a valuable practice for calming down, but it's not always that easy to do for everyone. That's where Pause has been so helpful for me.
Pause is an incredibly simple app for iOS and Android (£1.49) that gently forces you to let go of everything around you and slowly follow a circle around the screen before giving you free rein while you close your eyes.
The best use I've found for Pause is helping me go to sleep. When breathing exercises haven't been enough to quiet my mind enough so I can drift away, five minutes of Pause has worked 9 out of 10 times.
Bonus offline tools: my Passion Planner and bullet journal!
Yes, I'm a techie, but that doesn't mean I don't appreciate the physical world in certain situations! Two items I take with me every day to class are my Passion Planner and my bullet journal. There's something about writing out my day and what I need to do on paper that I just can't replicate on a touch screen.
The Passion Planner is a weekly planner meant with a special focus on figuring out your life goals and how to achieve them. They come in two sizes and different styles, and I'm on my second one! As an added bonus, for every planner bought, one is given to someone who can't afford one.
Bullet journals take life back to the basics. One notebook to do everything, including time management, task management and note-taking. Once you know the basics, it's quite possibly the most flexible and powerful tool to sort out your life. I've adapted it to just getting to grips with each week ahead. Every afternoon, I sit down with my bullet journal and look at what needs to be done by which day in the following week, as well as what events to keep in mind. I can then use the weekend to make sure I've done everything I need for the next week, with the added satisfaction of crossing things off on paper.
If you're looking for any more app recommendations or more information on any of these tools, find me on Twitter @dani_w121!

Written by Global Ambassador, Dani Werner, MBA student, London campus, Class of 2017.
Hult offers a range of highly skills-focused and employability-driven business school programs including a range of MBA options and a comprehensive one year Masters in International Business. To find out more, take a look at our blog My Masters in International Business: Looking back on a life-changing year. Download a brochure or get in touch today to find out how Hult can help you to learn about the business world, the future, and yourself.
Related posts