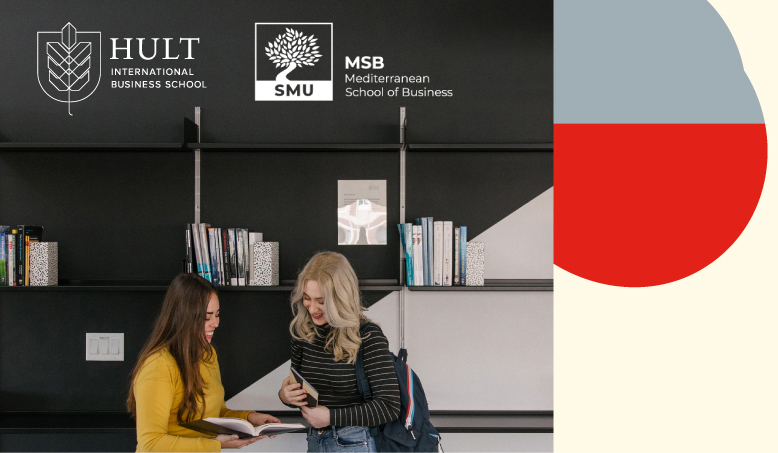 Shane Steffens is the President of the Undergraduate Program at Hult International Business school.
Hult International Business School and the South Mediterranean University in Tunis, Tunisia, are partnering to create a uniquely global undergraduate Double Degree.
Designed to create greater financial accessibility, challenge-based learning, and a truly global experience for students at SMU, the Double Degree Bachelor of Business Administration offers a one-of-kind bachelor's program and pathway for students to earn two degrees in four years while studying across MSB and Hult's global network of campuses in Tunis, Boston, London, San Francisco, Dubai, and Shanghai.
To understand more about this unique program and undergraduate partnership, we asked Shane Steffens, President of the Undergraduate Program at Hult International Business School, to explain more.

Why has Hult partnered with the Mediterranean School of Business specifically?
Shane: A lot came down to timing, synergies, and creating greater financial accessibility for students to study abroad.
Interestingly, MSB have been on a similar trajectory to Hult. They opened their doors in 2002, created MSB (their business school) in 2004, and launched their 3-year undergraduate program (the License in Management) in 2011. EFMD Bachelors accreditation and CFA affiliation followed shortly after, and with it the growth of their undergraduate and graduate programs in Marketing, Finance, and Business Analytics.
In addition to MSB's strong reputation, MSB—like Hult—focus on providing students with a balance of knowledge and skills employers actually look for in graduates: skills like teamwork, leadership, and communication. So, when Hult began exploring the concept of a four-year undergraduate Double Degree program that combined challenge learning with financial accessibility to gain global experience beyond your typical exchange semester abroad, the timing at which MSB reached out to Hult was fortuitous.
Tell us more about the Double Degree Bachelor of Business Administration—what will students be learning?
Shane: We've really approached this program as a way to bring the best of what both Hult and MSB's undergraduate programs in business have to offer. Students will start their four-year, Double Degree Bachelor of Business Administration at the Mediterranean Business School in Tunis, Tunisia, then study for 2 years, acquiring managerial and leadership skills through business simulations and group projects with clients. Finally, they'll join Hult on the Bachelor of Business Administration program for their remaining two years.
They'll transfer 120 ECTS (60 US Credits) from MSB to Hult along with their formative practical experiences and soft skills development during their time at MSB to delve deeper at Hult, specializing in one of Hult's five majors to build in-depth knowledge, mindsets, and skills, so they're ready to thrive in a rapidly changing world. They'll graduate with two degrees in four years, and more importantly with the versatility and adaptability to work in any environment to solve challenges facing businesses today.
What makes this Double Degree different from other undergraduate programs?
Shane: Typically, undergraduate partnerships and programs offer students the option to study abroad for an exchange semester or year. Hult and MSB have approached this program differently by combining both their flagship undergraduate programs, and MSB's Licence in Management program with Hult's Bachelor of Business Administration program. Together, we've created a uniquely global four-year undergraduate Double Degree. By studying with MSB for two years and then progressing to Hult for their final/remaining two years, students not only gain two degrees in four years, but at a lower cost than typically associated with attending a four-year program abroad. Furthermore, compared to typical exchange semesters and years abroad, this program gives students the return on investment of the UK's Graduate Route and the US's OPT, offering eligible international students the opportunity to pursue professional employment in either country after graduation—a launchpad to a global career.
What plans do Hult and MSB have for the future?
Right now, we're focusing on launching the Double Degree Bachelor of Business Administration program and welcoming the first intake of MSB students to Hult in September 2022 and January 2023.
Looking beyond the Double Degree, we're exploring ways in which our faculty can collaborate on research and how both our incubators, Hult Founders Lab and SMU Incubator, can work on joint projects. We're also considering how SMU's engineering school—The Mediterranean Institute of Technology (MedTech)—could partner with Hult to create a pathway for SMU engineering students to progress onto one of Hult's one-year master's programs. Combining a depth of functional excellence in engineering with the breadth of business acumen and differentiating graduates as managers and leaders in their fields of expertise.
Head over to Facebook for more detail on the exciting partnership between Hult and SMU.
Related posts