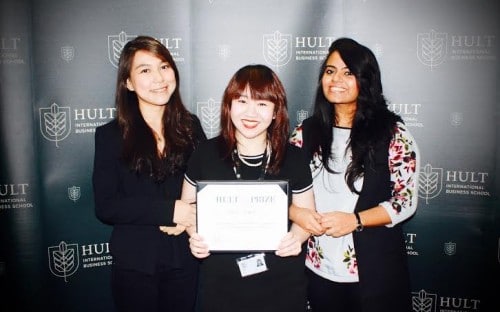 A team of Hult International Business School students have leapt into the regional finals of the Hult Prize – the world's largest student competition – with their idea for a digital payments platform specifically tailored for refugees.
Founded in 2009, the Hult Prize fosters the creation of for good, for profit businesses to tackle global issues. This year's theme – 'Refugees – Reawakening Human Potential' – focuses on restoring the rights and dignity of the world's 60 million-to-one billion refugees.
Gopi Bhudia, captain of the winning 'Team Faeth,' came up with the idea for the 'E-Vacuate' app on a trip to India. There, she was inspired by the trend of demonetization and the opportunity to take digital payments to rural consumers…
To read the full article, visit BusinessBecause.
---
If you would like to find out more about Hult's business programs, download a brochure here.
Hult offers a range of highly skills-focused and employability-driven business school programs including a range of MBA options and a comprehensive one year Masters in International Business. To find out more, take a look at our blog Choosing your school: Is it time to get out of your comfort zone? Download a brochure or get in touch today to find out how Hult can help you to learn about the business world, the future, and yourself.
---
Related posts