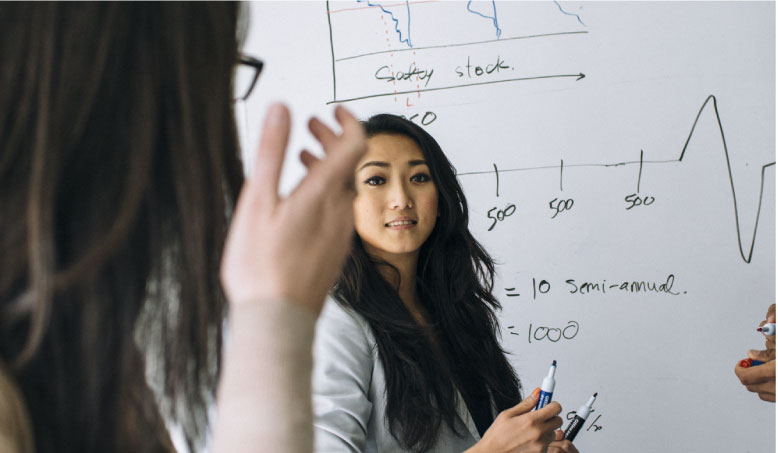 Note: We've made every effort to ensure that the information in this article is correct at time of publishing. However, visa and immigration laws are complex and ever-changing. Please contact the US visa team with any questions regarding US work authorization at: visas.boston@email.hult.edu
Employers and graduates alike are catching on to the increasing and urgent need for science, technology, engineering, or math (STEM) specialists as we head toward a technology-oriented future. Governments around the world recognize the emerging skills gap. That's why STEM graduates are so internationally mobile and in such hot demand. The US market is no exception. STEM graduates in the US are eligible for three years' OPT—post-graduation work experience in a related field.
Some of Hult's masters programs automatically qualify for STEM OPT in the US. Many of our international students are keen to secure extended on-the-ground US experience—either with the aim of staying long-term or simply to add fire to their resumes. And now, in order to help our MIB and MBA graduates stand out in the super-competitive US job market, we have made a STEM track option available on our Global One-Year MBA and Masters in International Business programs—meaning you too can be eligible for three years' OPT in the US after graduation.
MBA or Masters in International Business students specializing in finance or business analytics from September 2020 will have the option of stacking all of their electives, plus one additional elective in STEM, in order to qualify for the extended, three-year OPT.
The cost of the additional elective is $3000 USD. However, as an introductory offer, students applying now will be eligible to take the additional STEM qualification at no additional cost.*

A recent survey conducted by aerospace giant BAE Systems confirms that Gen Z largely aspires to meaningful jobs that will make a difference in the future. Over 80% believe that a career in technology will be important, with a third looking to future-proof their career by studying STEM subjects.
A strong launchpad into any career, and currently one painfully lacking in gender diversity, the US government recognizes the importance of STEM qualifications. This is why they offer an extension of up to three years' OPT post-graduation. And for many international students, the chance to work in a related field and gain substantial US work experience, or even long-term employment in the US, is a lifelong dream.
For full details, get in touch or contact your enrollment advisor.
---
Intrigued to learn more, but not sure what all the jargon means?
Vice President of Hult's Global Career Development, Katharine Boshkoff, is here to add some clarity:
Hi Katharine. First things first, what is OPT?
OPT, or Optional Practical Training, allows students with F-1 status who have completed their degrees to undertake 12 months of post-graduation employment while still on a student visa. Designed to supplement the learning of the degree, OPT enables graduates to get practical and relevant work experience that complements their education. All US-based Hult masters programs meet the requirements for one year of OPT. And those in STEM areas of study are also eligible to apply for a two-year extension.
Why do so many people want to work in the US anyway?
Here at Hult, we're passionate that to truly understand business, it's not enough to learn about it—you have to actually do it. Any amount of US experience is a resume builder. US work experience gives you on-the-ground experience in one of the largest, most dynamic economies in the world. Establishing a network among US businesses will support your career trajectory. And the experience will differentiate your skills and resume upon return to your home country. The opportunity to travel and study in a new country also brings myriad other benefits—both personal and professional.
What does it mean for my degree?
Qualifying students can apply for the STEM OPT extension after their first year of post-graduation work in the US. Your enrollment advisor can guide you through your campus options.
Understandably, many Hult grads choose to work in the regions closest to campus. We always like to remind our students that there are other very attractive markets in the US where income is relatively high, jobs prevalent, and the cost of living low. Fortune's 2018 list of Best US cities for jobs ranked San Francisco's Californian companion San Jose in its top tier, alongside Pittsburgh, PA, Washington, DC, and Raleigh, NC, based on number of available opportunities. For those truly motivated to make a long-term commitment to the US, we advise executing a job search across several US markets simultaneously.
Sounds exciting—and a little overwhelming…
We hear you—and are here for you. Hult's Career Development team is on hand throughout your degree program to help you find the right path. See also our piece on work options in the US after graduation.
*Students must apply by May 28 and confirm by June 11, 2020 to be eligible for the additional STEM qualification at no extra cost. For full details and terms and conditions get in touch or contact your enrollment advisor.
---
Do you dream of getting some experience in the US? Start your Hult journey by downloading a brochure.
More like this
The benefits and challenges of cultural diversity in the workplace
Related posts