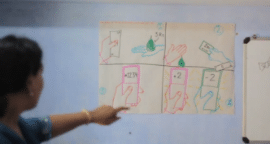 Discover transformative new businesses taking shape during the Hult Prize competition for students across the globe.
By Ruisha Qian for Kiplinger.com. For full article please click here.
Ahmad Ashkar is the founder and CEO of the Hult Prize, a start-up accelerator for social good recognized in 2012 by President Bill Clinton and Time Magazine as one of the top five ideas changing the world. Each year, the Hult Prize takes on one of the planet's toughest challenges, such as water, education and food crises.
College students from around the world present new business ideas in regional rounds of competition hosted by Hult International Business School and its campuses in Boston, San Francisco, London, Dubai and Shanghai. Regional winners were announced in May and will attend the Hult Accelerator, an incubator for start-ups, in July. They will present their final pitches at the Clinton Global Initiative's annual meeting in New York in September, and the winner will receive a $1 million prize donated by Swedish billionaire Bertil Hult.
Kiplinger's spoke with Ashkar about the competition. Here are excerpts from the conversation:
A good example?
M.Paani, founded by entrepreneur Akanksha Hazari, won the Hult Prize in 2011. What she did was capture a trend, which is that more people in India's urban slums have mobile phones than access to a toilet or clean water. The question was how to use the desire of telecommunication companies to target this market and to create subsidies to fund clean water. m.Paani set up a rebate program.
Every time the villagers use a specific mobile carrier, the carrier pays a commission to m.Paani, which uses part of the money to fund water development projects. It's a win-win — the incentive for villagers to use one carrier is high, and the cost of rebates for the carrier is cheaper than doing marketing and advertising.
Interconnectivity of the poor and the rich has gone seamless. There is a huge opportunity for Western retailers to access the poor. Two or three dollars a day makes billions.
Continue reading the article here.
Make the most of what your career has to offer with a Masters in International Business from Hult. To learn more, take a look at our blog Taking me beyond business: Finishing my masters with the Hult Prize Finals, or give your employability a huge boost with an MBA in international business. Download a brochure or get in touch today to find out how Hult can help you to explore everything about the business world, the future, and yourself.
Related posts